Release Notes V3.37.0: Enhanced Redaction, Video Export and More!
The 3.37.0 release includes several feature updates for customers as well as support features to make assisting our customers faster and more secure. 
Expanded Redaction Customization
Users can now customize which data fields should be redacted in screenshots. Previously users could redact screenshots based on 17 US-centric fields (such as social security number, Bank SWIFT routing number, US passport number, etc.) but now users can customize redaction by selecting from 99 field options across 34 countries. This improved redaction allows users to not only prevent sensitive data from leaving your office but also to keep sensitive information captured by ActivTrak safe from prying eyes.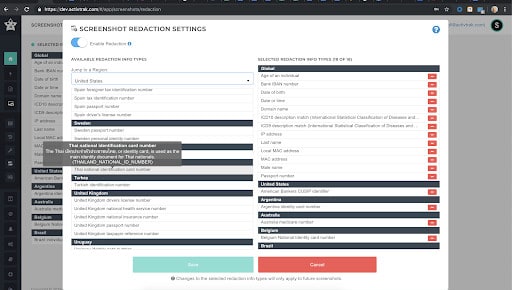 Screenshot redaction is accessible by Navigating from Screenshots to Screenshot Redaction and clicking on Edit 
Video Export
Since we released the ability to download a captured video using the fullscreen video player last month, users have been asking for the ability to export the video. You asked and we listened!  
Exporting videos work the same as our other exports – simply navigate to the Videos > History, filter the videos to narrow down to just the videos you need and click export. These filtered results will be exported as a zip file with no limit except for the time it takes to create the file. 
Reporting Updates:
Two new charts are available in Top Websites and Top Applications
Understanding how your team uses websites and applications can be helpful to verify how software is actually used, measure the impact of software training, or to verify the actions within a productive tool are indeed productive.  Take a look at the new charts available on both the Top Websites and Top Applications to drill down into the specific usage of the website or application based on the time selected. You can focus on a specific user or view this across an entire group. 
Top Users Chart Option Toggle
During our last release, we redesigned the Top Users reporting by removing the stacked graph view for a cleaner column view. Several users pointed out the stacked view gave them just what they needed, so we've added it back. You can now toggle back and forth between the two views to see the data from both perspectives. This page will remember which view you last used and keep it there. 
Have an idea for how to improve ActivTrak? Please let us know! We love to hear your ideas, suggestions, and feedback no matter how big or small. Contact us here.