20+ of the Most Popular Remote Work Software Tools
If you're looking for a way to boost productivity and profits, remote work is the way to go. Despite fears to the contrary, studies have long shown employees are 20%-43% more productive when working from home. Remote companies also save millions in turnover, talent acquisition and real estate costs.
However, there is a catch.
For remote work to be successful, you have to use the right technology. And unfortunately, finding the ideal mix of remote work software can be difficult. Many of our customers use ActivTrak to manage technology, and they're frequently surprised at how many tools are unused, underused or performing poorly.
While 92% of executives say they're satisfied with the technology experience their companies provide, only 68% of staff agree. On the other hand, employees who are satisfied with remote work software are 158% more engaged and 61% more likely to stay.
As remote work becomes an ever-present reality, it's more important than ever to find the right tools. After all, teams still need to meet and talk, collaborate and brainstorm, share files and keep the lines of communication open — and they need to do it from anywhere in the world.
So, which options make the most sense for your remote workforce? Let's take a look at some top-rated remote work software and tools to help you decide.
1. Project management tools
Image source: Monday.com
Robust project management software is essential for any team working remotely. These platforms enable team members to collaborate on complex projects, set timelines, assign tasks and track progress. Based on the latest G2 and Capterra reviews, top-rated options in this category include:
Voted one of the top global software companies of 2023 on G2, monday.com offers a highly customizable platform. Create roadmaps, build workflows and use visual boards to collaborate in real time. With custom versions for sales and development teams, this platform can be a great option for organizations that need to meet specific remote work use cases.
Key features:
Kanban boards to prioritize tasks based on team capacity
At-a-glance dashboards to simplify decision-making with real-time insights
Form builder to collect and manage work requests in one place
Ratings:
Pricing:
After the free trial, monthly per-user fees range from $8 for the basic plan to $16 for the pro plan. An enterprise version is available with custom pricing.
At the heart of Smartsheet is what you'd expect from the name: a smart, interactive set of spreadsheet features. But this project management software offers an abundance of other features, too. Automate workflows, build forms, create tickets and more — all in one central platform.
Key features
Intelligent workflows to bridge steps across multiple apps
Native integrations for dozens of the most popular work apps
Resource management to build teams, keep budgets on track and forecast future hiring needs
Ratings:
Pricing:
Monthly plans range from $7 to $25 per user per month for the pro and business plans. You'll need to get in touch for enterprise-grade pricing.
With more than 21,000 reviews and four and a half stars across G2 and Capterra, Asana is clearly a winner. This remote team management platform is designed to help organizations organize, track and manage work. You can create projects and tasks, assign them to employees and set due dates. Collaborative features include lists, boards, calendars and Gantt charts.
Key features:
Workflow builder to automate processes
Workload to see how much team members are doing
App integrations for Google Drive, Microsoft Teams and dozens more
Ratings:
Pricing:
There's a free basic plan for individuals or teams just getting started with project management. The premium and business versions start at $10.99 to $24.99 per user, per month.
Other popular options for creating a strong remote work environment include Wrike, Basecamp, ClickUp, Notion and Trello. And if time tracking and reporting are important to your business, consider adding Harvest or Toggl to your tech stack. Harvest lets you generate invoices based on how much time your team spends on different activities, while Toggl offers project management and reporting features in addition to time tracking.
---
2. Team communication platforms
Image source: Microsoft
Effective communication is one of the most important aspects of successful remote work environments. In fact, choosing the right communication platform can be the difference between day-to-day progress or discord and feelings of disconnect. Thankfully, there are some great tools in this category. When researchers at PCMag tested leading software, Slack came out on top for features and integrations. Other strong options include Skype and Microsoft Teams.
This top-rated messaging app is used by thousands of remote teams across a wide range of industries. It includes an array of features so colleagues can communicate in real time. You can create channels for different topics, send direct messages to team members and integrate with other tools like Trello and Google Drive.
Key features:
Channels for more focused team collaboration
Huddles for times when impromptu voice and video calls are needed
Canvas to capture important files, images and other documentation
Ratings:
Pricing:
The free version includes 10 integrations and lets teams see up to 90 days of message history. The pro plan for smaller teams starts at $7.25 per user, per month. Larger businesses can opt for the $12.50-per-user monthly business plan or request custom enterprise pricing.
Microsoft's chat-based workspace combines messaging with voice, video and conferencing capabilities. Because it integrates directly with Microsoft 365, many companies use Teams to communicate alongside other Microsoft apps for project management. The platform allows teams to collaborate on files, communicate on the go and even use the "praise" feature to recognize peers who have gone above and beyond.
Key features:
Direct messaging for private 1:1 conversations
Channels for more focused team collaboration
Badges to send praise to remote colleagues for jobs well done
Ratings:
Pricing:
You can try Microsoft Teams with a free one-month trial. After that, prices range from $4 per user per month for the essentials plan to $12.50 per user per month for business standard.
Skype is a classic phone and video conferencing tool that allows you to connect with team members and clients all over the world. This Microsoft product is a good option for teams that travel frequently and rely heavily on mobile apps. Make calls, meet with teams and chat with colleagues. Many reviewers say they prefer it to other cloud-based options, in part because this app was among the pioneers of virtual communication.
Key features:
Call recording and live subtitles for simple, hassle-free communication
Skype to phone to add an element of fun to the remote work day
Industry-standard encryption to ensure sensitive conversations stay private
Ratings:
Pricing:
Skype charges for international phone calls on a per-month basis with prices that vary by country. Or, users can purchase credits for the pay-as-you-go option.
Other popular options include Google Chat and Mattermost. Google Chat is part of the Google Workspace platform and is a simple-but-effective way for remote teams to stay connected throughout the day. Mattermost was purpose-built specifically for operational and engineering teams.
---
3. File sharing and storage solutions
Image source: Google
Back when everyone was in the office, you could rest assured sensitive data and documents stayed safe within your corporate network. Now that teams are working remotely, those same files are being accessed on personal devices using public WiFi. They're passed along to contractors and partners, too. So how do you keep those files secure — without hindering productivity? That's what file-sharing and storage solutions are for. Cloud-based solutions like Google Drive and Dropbox provide businesses with a secure way to store and share files from anywhere in the world.
Google Drive allows you to create and collaborate on documents, spreadsheets and presentations. As a part of Google Workspace, this platform makes it easy for remote teams to collaborate on files and control how they're shared.
Key features:
Google AI to predict and surface important content and collaborators
Shared spaces where teams can collaborate in real time
Admin console to manage users and file sharing permissions
Ratings:
Pricing:
Google Drive can only be purchased as part of Google Workspace, which includes a dozen other tools like Google Chat, Google Docs and Google Meet. Pricing starts at $6 per month per user for the business starter plan, with additional standard, plus and enterprise options.
Dropbox is another popular option that offers file storage and sharing, as well as integrations with other tools like Slack and Trello. The platform is designed to bring files together in one central place and keep them securely synced across devices. Like Google Drive, Dropbox makes it simple for remote workers to access work anytime, from any location — whether that means working from the conference room, coffee shop or living room couch.
Key features:
Always-on backup to restore files and reduce your risk of data loss
Content collaboration to centralize work in one location
Secure file sharing that gives you one simple link
Ratings:
Pricing:
Dropbox Standard gives you 5TB of space for $15 per user per month. Larger teams pay $24 for the advanced version, and enterprise organizations have the option to request custom pricing.
Sharefile provides bank-level encryption to secure files, and audit trails to track who's accessing your data. In addition, this tool offers a workflow feature to speed up reviews and approvals.
Key features:
Electronic signatures to capture legally binding signatures digitally
Co-editing to collaborate on the same single document in real time
Security controls to determine who's permitted to access files and folders
Ratings:
Pricing:
The standard plan includes five employees for $50 a month. That number increases to $80 a month for advanced features and $125 a month for premium capabilities. Instead of an enterprise version, ShareFile offers a virtual data room option at $338 a month for the most advanced features.
Other options in this category include Box, Microsoft OneDrive and Sync. The features for these file-sharing solutions are similar, so it's worth testing two or three to see which works best for your team.
---
4. Virtual meeting and conferencing tools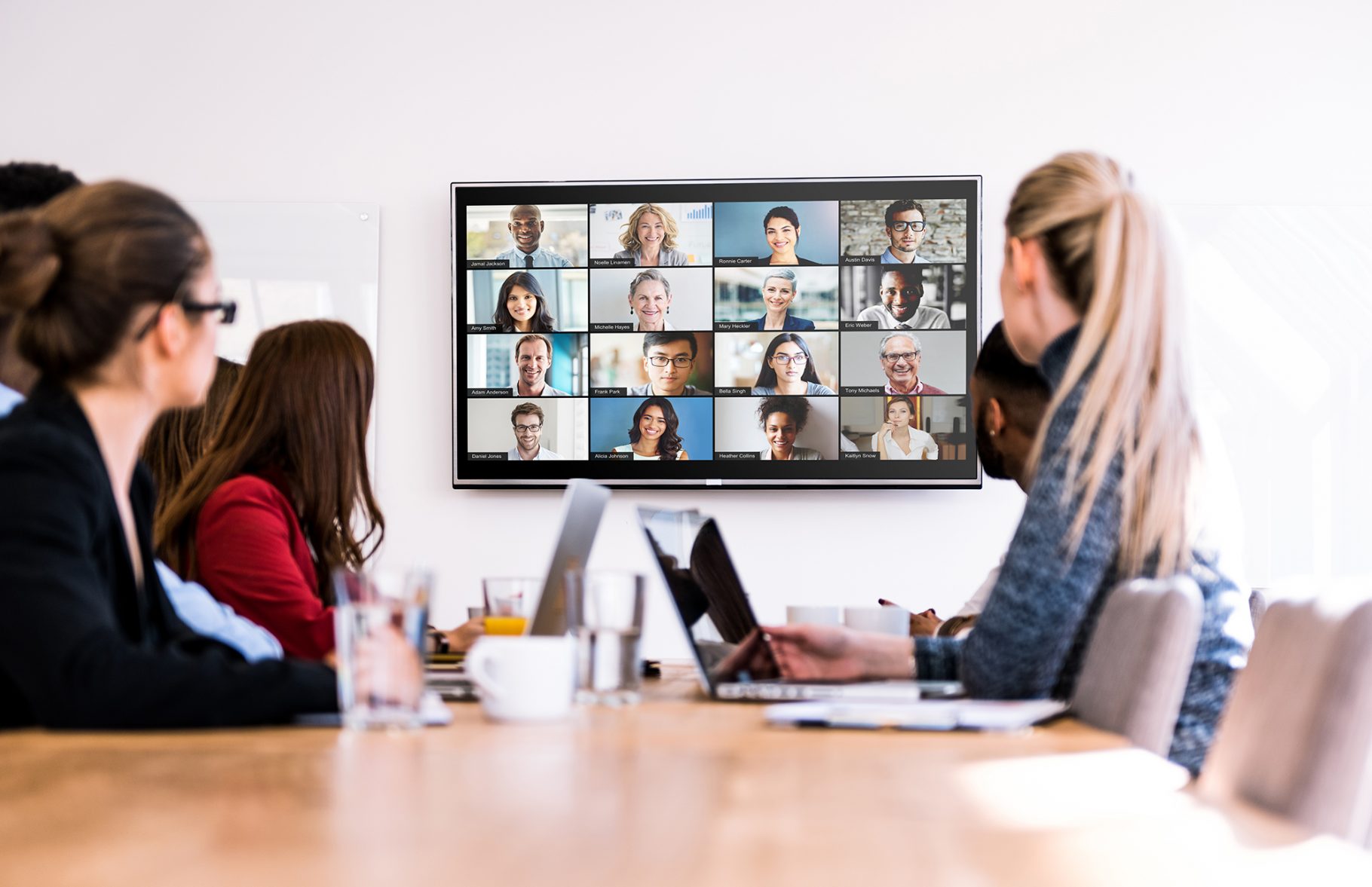 Image source: Zoom
When your entire team meets remotely, it's essential to find reliable conferencing software. Ineffective meetings already cost companies billions of dollars each year due to disorganization, daydreaming and wasted time. The last thing you want to do is add frozen screens and audio issues to the mix. But find the right technology, and you can get more done in less time. In fact, recent surveys show that seven in 10 employees find online meetings to be less stressful than in-person ones, and have an easier time when presenting virtually. If you haven't already experimented with one of the options below, try testing them all before choosing a paid plan.
Zoom allows you to host virtual meetings and webinars with 100 to 300 participants depending on your plan (or up to 1,000 participants for enterprise customers). You can also share your screen and record meetings for future reference.
Key features:
Virtual whiteboards for visual collaboration
Mail and calendar options to keep all communications in one place
Team chat to keep conversations flowing before and after meetings
Ratings:
Pricing:
You can start with the basic option at no cost and host up to 100 attendees for 40 minutes. Paid plans range from $149.90 to $250 per user per year. Like most remote work software, there are also custom options for enterprises.
GoToMeeting is another popular option with similar features, along with the ability to schedule and host meetings directly from your calendar. It's available as part of GoTo Connect, an all-in-one communications software built for small and medium businesses.
Key features:
Enterprise-level security to reduce your risk of privacy breaches
99.9% service uptime to ensure the platform's always available
Low bandwidth that reduces lag and helps keep videos clear
Ratings:
Pricing:
You'll pay $14 per user per month to host up to 150 participants, or $19 per user per month to host up to 250 people. Enterprise options are also available.
Like Google Chat, Google Meet is part of the Google Workspace platform. You can launch video calls instantly in your browser or schedule them directly from within your Google Calendar.
Key features:
Noise cancellation to filter out background noises like typing and closing doors
Polling to anonymously poll participants during meetings and presentations
Google Jamboard, an interactive digital whiteboard for live brainstorming
Ratings:
Pricing:
Google Drive is purchased as part of Google Workspace, which includes Google Drive, Google Chat, Google Docs and other tools. Pricing starts at $6 per user per month for the business starter plan, with additional standard, plus and enterprise options.
Skype, as mentioned earlier, is a classic video conferencing tool that's still widely used today. And Microsoft Teams is another platform that's frequently used for meeting with colleagues, clients and contractors.
How to evaluate remote work software options
Are these the only options available? Definitely not. While the list above should give you a great starting point, it's far from extensive. You'll encounter dozens of other options as you explore different remote work software possibilities.
By following three basic rules, you can keep your research from becoming overwhelming.
1. Assess your team's needs.
Many of the tools listed above offer free trials. Use them! First take a look at the size of your business, your budget and the specific features you'll need to boost productivity. Then invite remote team members to test different tools and help you decide which ones will work best long-term.
2. Compare features and pricing.
Once you've established your needs, make a simple pro-con list of features, capabilities and pricing. Be sure to factor in the number of users allowed, integrations with other remote work software and the level of customer support you'll receive. These considerations will be especially important as your organization grows and your team expands.
3. Read reviews and testimonials.
Finally, spend time poring over reviews and testimonials from other remote managers and employees who have used the software you're considering. This feedback can provide valuable insights and help you make more informed decisions.
Remove the guesswork from remote work software with ActivTrak
Selecting the best remote work software for your business can have a big impact on communication, collaboration and productivity. And thanks to recent advancements in workforce analytics, you won't have to guess which technology is working.
ActivTrak shows you which tools are actually used by remote teams — and when it may be time to cancel subscriptions — so you can make the most of every technology investment. You can also use this workforce analytics software to track time, evaluate work habits, monitor workloads and prevent burnout. Create your free account to start optimizing your remote team's productivity today.
Looking for more remote work software resources? Check out these posts: