New Feature—Real-Time Monitoring
At ActivTrak, our goal is to paint the clearest possible picture of your productivity, without violating anyone's privacy.

We wanted ActivTrak users to be able to actively check-in with their monitored devices at any point throughout the day because we understand that every minute counts, and that sometimes you just need to know now.
We're happy to announce that Real-time Monitoring is now available as an ActivTrak feature on all accounts, including the free tier.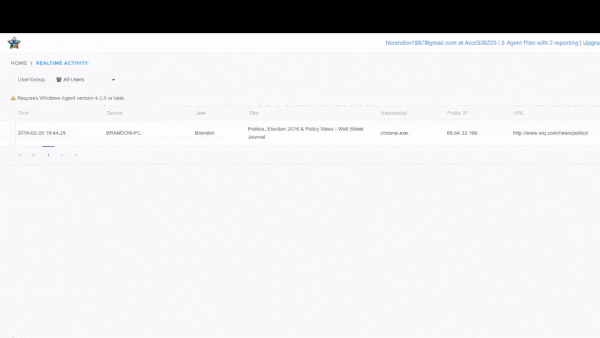 With Real-time Monitoring, you stay in the loop always by viewing a live data stream of the active window on any monitored device's screen. Data is displayed in individual rows with information on the open website or application, how long the user has been there, and every other data point the software captures.
Now, with ActivTrak, managers have the power to turn an unproductive day into a productive day by re-routing focus at the right time.
Events reported by the tracking agents are intercepted and made available for immediate display. This lets administrators monitor user activity as it's being transmitted to the system without having to navigate through reports.