Monitor Your Employees' Internet Usage for More Productivity
Remote employees and satellite teams are becoming the norm in the modern workforce with the internet serving as our core communications tool. In fact, Gallop's State of the American Workplace report found that 43% of U.S. employees work off-site at least part of the time. While the internet has allowed companies to recruit talented people from around the world, it has also made it easier for employees to become distracted online and waste time.
How can companies keep their employees productive online? Modern problems require modern solutions. ActivTrak exists to help companies measure and manage their employee's internet usage with internet usage monitoring software. 
Measuring Employees' Internet Usage
There are several ways to look at internet usage. But how do you know what data is valuable to you? You can find that answer by analyzing your employee's productivity. When determining the value of data, some questions you may want to ask are:
Is value found in the number of projects completed on time?
Is value found in the amount of time spent with customers or clients?
Is value found in the amount of time spent in a software application?
Questions like these are at the heart of the greater question: What does it mean to be productive online to the company? The answer will be unique to each company and their many departments. It'll require a thorough understanding of the activities that bring the company value. Once you've found your answer to the questions above, the monitoring software will immediately start measuring and managing your crucial data.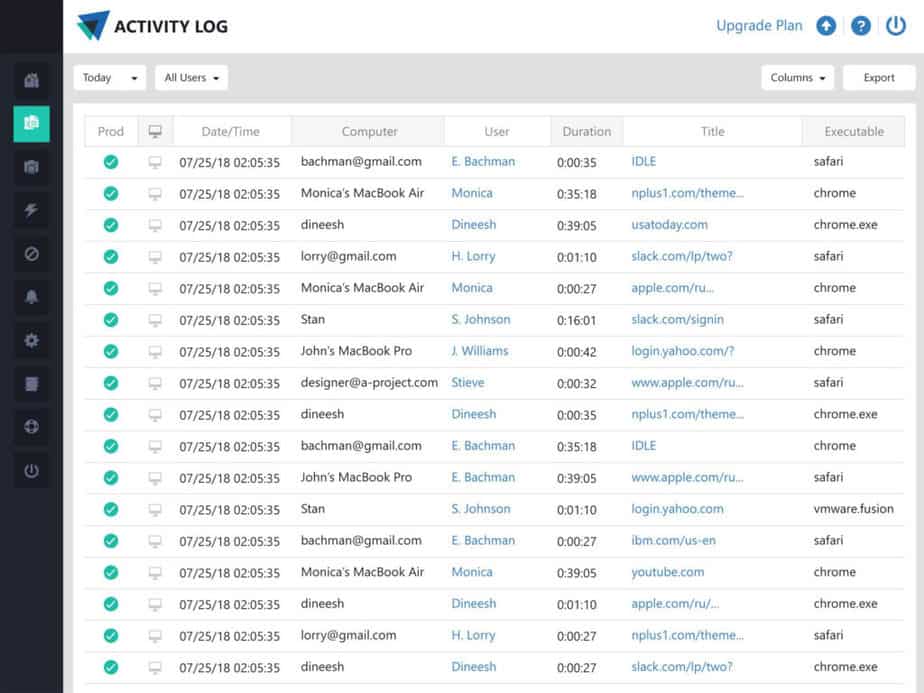 Internet usage monitoring software like ActivTrak will breakdown your data into the following actionable key metrics:
Most visited websites by user
Resource utilization
Total time spent on webpages and applications
Application usage volume per hour
Website history for pages and subpages
ActivTrak will take this data and display it in easy-to-read reports to help managers observe the behaviors that result in the most productivity. For example, you may discover that it's more productive for employees to spend time on emails in the morning than on sales calls. Perhaps you'll find which employees collaborate the best together and the times that they're most productive. 
Better Manage Employees' Internet Usage
The advantage of internet usage monitoring software is the ability to look at data across the entire organization. This allows you to better understand who your best performing employees are and what behaviors make them so successful. Managers will find internet productivity data especially helpful, as they evaluate how effective their company policies are, motivation strategies, and efforts are against the likelihood of insider threats.
When working with remote employees, managers want to make sure that their teams stay as productive at home as they are in the office. If your teams are working on company-issued devices, internet usage monitoring software like ActivTrak can disable access to distracting websites to make sure employees stay focused. Managers can also monitor how frequently employees check and write emails, browse the internet, and keep track of any breach of sensitive information.
Internet usage monitoring software gives managers the information they need to better understand what the online behaviors that makes their teams successful. With the right tools, wasteful practices or ineffective policies can be found and corrected. Start your free trial of ActivTrak and help boost the productivity of your employees today.