Trusted by 9,000+ organizations across the world
EMPLOYEE MONITORING SOFTWARE
Gain visibility into digital work to balance productivity, flexibility and employee well-being
Understand how work gets done with ActivTrak. Built with employee privacy in mind.
Discover how ActivTrak can help you:
Get started
206 reviews – 4.5/5
ActivTrak Review from Cresthaven Financial
"ActivTrak allows our company to easily and efficiently monitor our employees' actions, without being overly invasive. With ActivTrak, we [have] the perfect balance."
Read the review
EMPLOYEE ACTIVITY REPORTING
Measure daily work activity across hybrid and remote employees
See how employees spend their time. Categorize apps and websites by team, role or job function to analyze usage. And compare habits of remote and in-office teams to understand productivity and find bottlenecks.
Explore employee activity reporting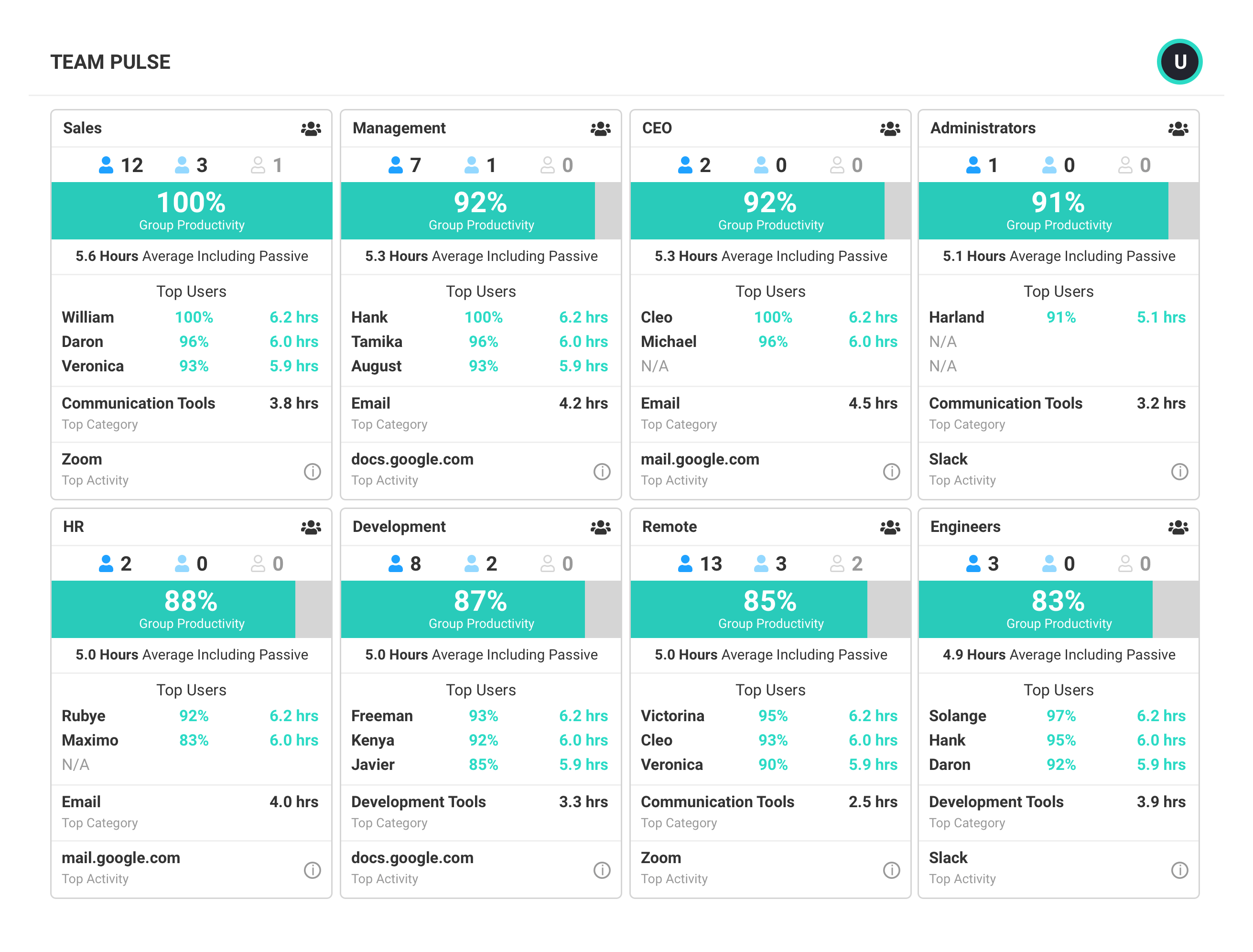 TIME TRACKING
Put digital time tracking on autopilot
Eliminate the hassle of manual clock-ins with automated time tracking
Review productivity and work duration by day, week and month
Protect employee privacy outside of working hours with flexible monitoring schedules
Explore time tracking
COMPLIANCE & RISK MANAGEMENT
Stay secure and compliant — even when employees are offsite
Ensure privacy, security and compliance with notifications of potential violations. Get immediate alerts via Slack, MS Teams or other channels when security vulnerabilities are introduced.
Explore compliance & risk management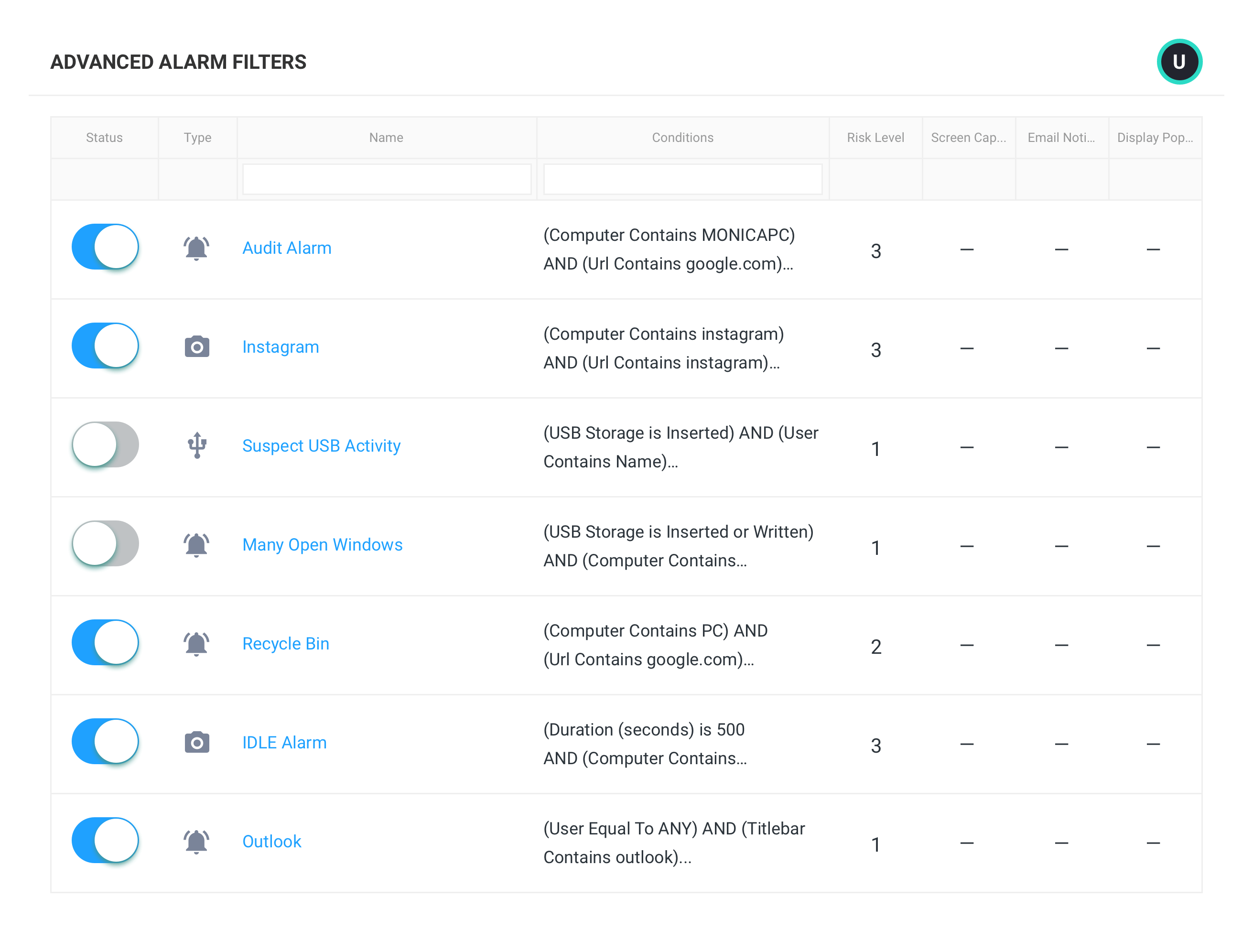 Explore ActivTrak's key features
No matter your needs, ActivTrak fits your stack
Hear what everyone is saying about ActivTrak
Powered by
FAQs about employee monitoring software
What is employee monitoring software?
Employee monitoring software is a technology used by businesses to gather digital activity data about their employees in order to understand how they work and find areas for improvement. While monitoring is sometimes associated with employee surveillance, its true value is in helping managers identify ineffective workflows and increase workforce productivity.
Employee monitoring software allows managers to see which applications and websites are being used, track working and productive time, and identify potential security risks such as data breaches in real-time. By using a software-based tool, managers can gather activity data for in-office and remote employees — then use insights to improve workflows and enhance team performance.
What data does employee monitoring software track?
There are several types of employee monitoring software solutions that can collect a wide range of digital activity data such as email usage, internet and application activity, time, attendance and location information. For most solutions, this information is collected in real-time and is accessible through a digital dashboard.
ActivTrak's software tracks:
When employees are online or offline, including start and end times total with world duration
Which apps and websites are being used by employees
Productive time across focus, collaboration and multitasking categories
Workload balance to identify and prevent potential burnout
Why is employee monitoring software important?
Employee monitoring software allows companies to see the root cause of costly distractions, rebalance workloads, identify opportunities for improvement, and identify security risks before they can become larger issues.
According to businessnewsdaily.com, American businesses lose $650 billion per year from distracted employees. Distraction can come from frequent context switching, unproductive processes, unnecessary intrusions, or a lack of focus. Successful, data-driven companies use the insights and analytics that employee monitoring software gives them to increase productivity and efficiency, boost sales and revenue, and strengthen employee satisfaction and retention.
How is remote employee monitoring conducted?
Remote employee monitoring is conducted through software on a user's computer. User activity is gathered and sent to a database where administrators can see individual activity and analyze it for further understanding around productivity, collaboration, engagement, policy control, workload balance, and other critical metrics.
Remote employee monitoring solutions, like ActivTrak, collect and analyze remote worker activity to help businesses get the visibility they need. Our employee monitoring software provides critical data around time management, website and technology usage, and active or passive time. We also explain how this data relates to productivity, which is key to understanding the success or failures of your remote teams.
What is ActivTrak's approach to employee monitoring software?
Improving productivity requires the collection and monitoring of data to establish a baseline upon which you can measure improvement. We know employee monitoring and activity analysis have a mixed history and association with surveillance and heavy oversight. ActivTrak intends to change that by focusing on the real output of employee monitoring: improved productivity.
We designed ActivTrak from an ethical standpoint: with the guiding principles of transparency, collaboration, and informed insight. We've intentionally developed a powerful platform that focuses on the collection of contextual data, avoiding intrusive employee monitoring technologies like keystroke logging and video surveillance.
We challenge the users of our product to join us on our journey to move employee monitoring from the age of oversight and into the results and data-driven space that is productivity insights and optimization of work.